I've gone to church my entire life.
Practically grew up in a church pew.
Went on Sunday mornings, sometimes Saturday evenings, and never missed Wednesday nights.
If you asked me, "What is Christianity?" I'd have said, "It's about serving God and being saved (aka 'go to heaven when I die')."
However, a few years ago, as I sat on my couch mulling over a simple, thin book by a man I'd never heard of before, I came to the realization that I had never truly understood Christianity. In just a few pages, the text of that book illuminated the true meaning of Christianity, and the true reason for why human beings exist in the first place. Continue Reading
Subscribe to Blog
About Brennan McPherson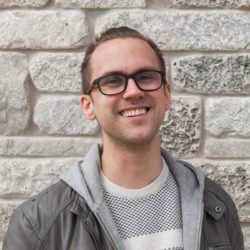 Brennan McPherson has always wanted to tell stories, but it wasn't until his junior year in college that he built up the nerve to try. Three years and several failed attempts later, Cain, his first novel, was born. Brennan is married to his best friend, works full time at a small nonprofit, and plays the drums in his spare time.