I began writing because no one had yet written the story I saw playing out in my head. And I knew that the story I was envisioning would never get told right if I weren't the one to do it, because who else could see it the same way as me?
No one, of course. That's the simple truth that pushes every artist to begin creating.
I call it, "peculiar vision." Everyone has it. Just not everyone has the courage to follow it.
However, even though I could envision what I wanted to bring to life, I had neither the tools nor the understanding of how to make it happen. I knew nothing. And each time I put my hand to trying, I failed so miserably that I nearly quit.
In college, I tried writing a short story.
When submitted to the school paper, the editor patted me on the shoulder and said, "Stick to music."
If you're ever in a position to influence other people, never say something like that to an aspiring artist. If I would have listened to that
"editor," Continue Reading
Subscribe to Blog
About Brennan McPherson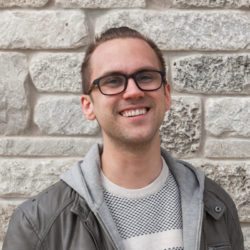 Brennan McPherson has always wanted to tell stories, but it wasn't until his junior year in college that he built up the nerve to try. Three years and several failed attempts later, Cain, his first novel, was born. Brennan is married to his best friend, works full time at a small nonprofit, and plays the drums in his spare time.