God's spiritual regeneration imparts a sense of wholeness, a spiritual vibrancy that spills over into every area of life, from the way we butter bread to the way we comfort grieving family members.
But we're also human beings, and we tend toward living fractured lives with a sense of legalistic dread that spills over into every action, from the way we pray before every meal to the way we behave differently at church as opposed to at home.
The less time I spend immersing myself in prayer and Scripture reading, the more I sense the cracks re-develop in the way I view life.
Business crowds out Godliness, and my automatic expression of love for God dims toward religious repetition. Worship cools from exuberant exaltation to un-felt monotonous monk chants in a corner. Continue Reading
Subscribe to Blog
About Brennan McPherson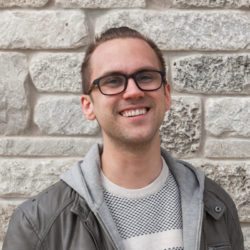 Brennan McPherson has always wanted to tell stories, but it wasn't until his junior year in college that he built up the nerve to try. Three years and several failed attempts later, Cain, his first novel, was born. Brennan is married to his best friend, works full time at a small nonprofit, and plays the drums in his spare time.