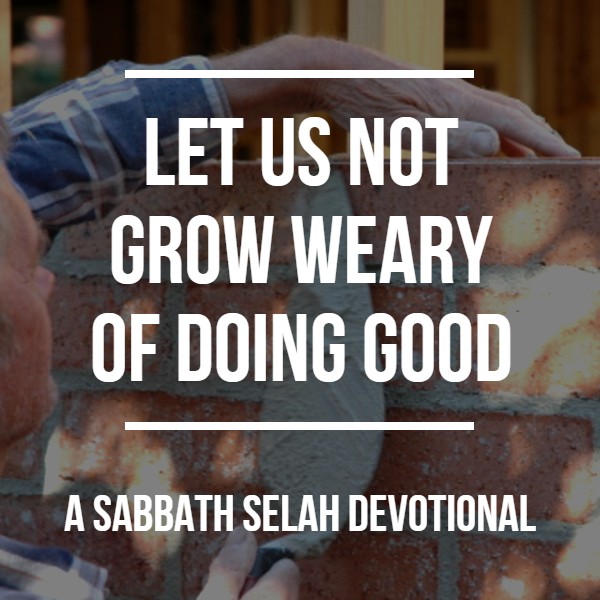 "And let us not grow weary of doing good, for in due season we will reap, if we do not give up." – Galatians 6:9
I have the hardest time with consistency.
Anything that I have to do over and over, every day or week, frustrates me.
Like mowing the lawn. Or making the bed. Or doing the dishes.
If I think too much about how those tasks will be calling for me again shortly after they're finished – it's enough to put me in a bad mood.
Yet God calls us to consistency.
The kind of consistency that goes to work every day and faithfully punches in. The kind of consistency that does a good job even when you don't want to.
And he himself modeled consistency in his perfect life and his dedication to prayer and service.
So, what is our motivation to remain consistent?
Our hope in Christ: a pure life in joy with him forever.
We can only experience that joyful, full life with him now or in eternity by keeping our hearts consistently focused on him.
The Bible refers to this long-term, consistent trajectory as steadfastness.
And steadfastness is a fruit of the spirit. What does that mean?
It means that steadfastness is something we cannot manufacture in ourselves.
Instead, the Spirit of God grows steadfastness in us as we spend time in prayer with others, worshipping him, reading his Word, and bending our lifestyles to his will.
These activities are referred to as spiritual disciplines for a reason: they don't always give immediate gratification.
Rather, they are lifestyle choices we make because we know that they please God, that they nourish us spiritually, and that we cannot remain walking in step with the Spirit of Christ for long without them.
God knew that there would be times when we would grow tired, and be tempted to stop doing the good that he has commanded us to do.
He also knew that the spiritual weariness itself would eventually pass. And that it would be salved by the respite we receive from prayer, worship, and time with others.
But have any of you experienced the increasing weariness that comes with throwing up your hands and giving up?
You find yourself spiritually tired, and you don't want to live up to the standards God has given.
So you say, "What's the use? I might as well just give up."
But what happens?
You grow twice as weary.
Not only that, you become bogged down with hollow, heavy guilt, and feelings of inadequacy and loneliness surround you as your sinful attitude and behavior drives a wedge between you and God.
If you feel you should be spending more time with God, or that you should be making changes to your lifestyle or schedule, don't let your emotions push you away from him in this moment.
He longs for you to run to him.
And he promises that he will reward you.
He'll comfort you.
He will be your rest.
He will satisfy you like water satisfies a thirsty man in a desert.
And your weariness and weakness will not last.
Because as you surrender, and bend your heart and spirit toward God, his Spirit will build you up.
"Continue steadfastly in prayer, being watchful in it with thanksgiving." – Colossians 4:2
"May the Lord direct your hearts to the love of God and to the steadfastness of Christ." 2 Thessalonians 3:5
"for you know that the testing of your faith produces steadfastness. And let steadfastness have its full effect, that you may be perfect and complete, lacking in nothing." – James 1:3-4
"Blessed is the man who remains steadfast under trial, for when he has stood the test he will receive the crown of life, which God has promised to those who love him." – James 1:12
Let's pray.
PRAYER
Thank you, Lord, for your consistency! You are always there for us. You always fulfill your promises. And you are always working in us. So, we surrender to your will, Lord. And our hearts long for intimate relationship with you! Make us strong by your Spirit, to obey you, and to please you with everything we say, think, and do. Amen.
DIG DEEPER
What is one thing that you are really bad at being consistent with? Share with someone you trust, and ask them to hold you accountable to make a very specific change to combat that.