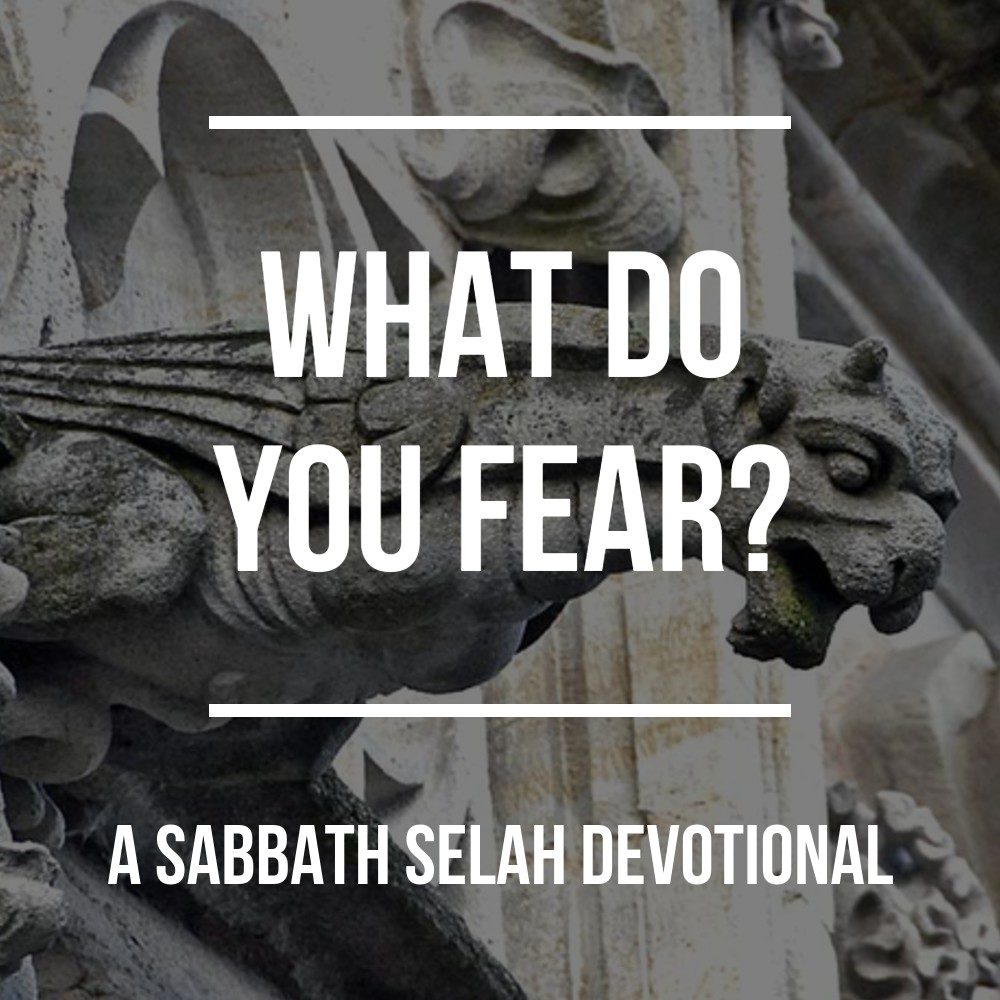 During this intense time, fear is being shouted from the rooftops.
So. What do you fear?
What we put into our minds makes an impact. As a result of the bizarre events surrounding COVID-19, I've been craving the psalms lately as a respite from all the anxiety-inducing headlines.
Over and over, I've felt the reality of Psalm 63, "my soul thirsts for you; my flesh faints for you, as in a dry and weary land where there is no water. … Because your steadfast love is better than life, my lips will praise you."
At the same time, fifteen minutes after worshipping him and reading his Word, my mind returns to the anxieties that have been plaguing me.
It does sort of make sense. I've been stressed about a book launch, had my whole schedule flipped, began working from home, been literally stuck in my home for nearly a month, and struggled with a chest-cough due to allergies for three weeks (it's still there, folks – ugh).
But I know that the peace he gives me is real, and stronger than my fears.
So, why do the pressures return so quickly?
I think I might know why, at least in part.
Psalm 91 says, "For he will deliver you from the snare of the fowler and from the deadly pestilence."
The answer to why we don't feel his lasting peace, I think, lies in whether we truly believe that.
Part of me does.
The other part yells, "But you still might get sick and die!"
Which is potentially true. But is that even worth asserting?
The psalmist didn't think so in Psalm 91. Instead, he goes on, "You will not fear the terror of the night, nor the arrow that flies by day, nor the pestilence that stalks in darkness, nor the destruction that wastes at noonday. A thousand may fall at your side, ten thousand at your right hand, but it will not come near you."
These words are not a license to be foolish.
Elsewhere, Scripture commands us to follow the guidance of our governments, and to respect those in authority, and to not willfully do what's illegal – unless following the law would demand we forsake Christ. So, we should not take this to mean that we will be invincible.
Even though Psalm 91 speaks of seeing the "recompense of the wicked," Jesus himself affirmed that not all sickness is caused by sin. And, in our case with COVID-19, many who love and serve Christ have already been taken from us.
Obviously, COVID-19 is not simply a judgment on the wicked, because it's affecting Christians and non-Christians alike.
Still, regardless of the hope the words in Psalm 91 gives us, we still need to wrap our emotions around the disturbing reality that viruses like COVID-19 exist and kill people every day.
I think the secret to how we do that is hidden in the end of Psalm 91, which concludes with what the writer believes God is saying to him. It's the basis of his trust, and his strong claims all through the poem. And it's written as though coming from the mouth of God himself.
Here's what it says: "Because he holds fast to me in love, I will deliver him; I will protect him, because he knows my name. When he calls to me, I will answer him; I will be with him in trouble; I will rescue him and honor him. With long life I will satisfy him and show him my salvation."
We know from Scripture itself that the safest place to be is in the hands and the heart of God himself.
He promises to reward those he loves. And when we ask for his protection, we know that he hears and answers the prayers of those who love, serve, and trust him. (James 5:16)
If we are serving and loving him, and faithfully pursuing him, we can be confident that his will for us is to accomplish good.
Now, his will might be that it is time for us to pass into the next life.
But to be a Christian is to believe that there is nothing better, in this life or the next, than God's will. After all, Jesus taught us to pray, "Thy will be done, thy kingdom come, on earth as it is in heaven."
Now we see through a glass dimly. We don't understand why some people get sick and experience multiple-organ failure while others are healed.
The Scriptures offer us no clean answer.
Instead of assuaging all our worries that sicknesses might harm us, Scripture affirms both that God heals, and that all of us will die. It's not up to us to decide whether healing or death is given to us in the next few days.
But he does tell us that our responsibility is to trust him, to remain faithful to him, and to keep our hearts set on him.
How can we do that if we fear sickness more than we fear God?
God promises us even in Psalm 91 that he will always be there with us. And if anyone can deliver us from anything, it's God. He's in control of everything, including medical technology, medicine production, and the success of physicians' treatment plans.
So, how do we fight fear? And how do we learn to trust God more?
By taking the time, every day, to experience God's perfect love, which casts out our fear. By choosing to believe his promises, and setting our hearts fully on his will, rather than our own temporal desires.
So…
What do we fear more? A virus? Losing our jobs? Or God himself?
PRAYER
Lord, keep our minds and hearts on you instead of our fears. Give us wisdom and strength to carve out special time with you every day, so that we can be certain to not neglect you during this time of upheaval. Show us your goodness, strength, and power in this time in a new way, so that our trust of you will seep down into our very bones, and we will never doubt that you are in total control. Also, give us humility and love for you, and for each other. Amen.
DIG DEEPER
Take ten minutes and write out a general schedule of what you need to do in this next week. Then, decide on a time when you will put away all distractions and focus solely on aiming your heart toward Christ, to experience his perfect love. This is a time to read the psalms, pray, worship, and meditate on God's goodness, mercy, power, and glory. What I've discovered very quickly during this quarantine time is that, without being intentional about setting a scheduled time for this, I become like a jellyfish floating aimlessly along. Days fly by and I wonder what I did with them. So, let's fight back against that with just fifteen minutes with a pen and paper. I'm doing it with you.