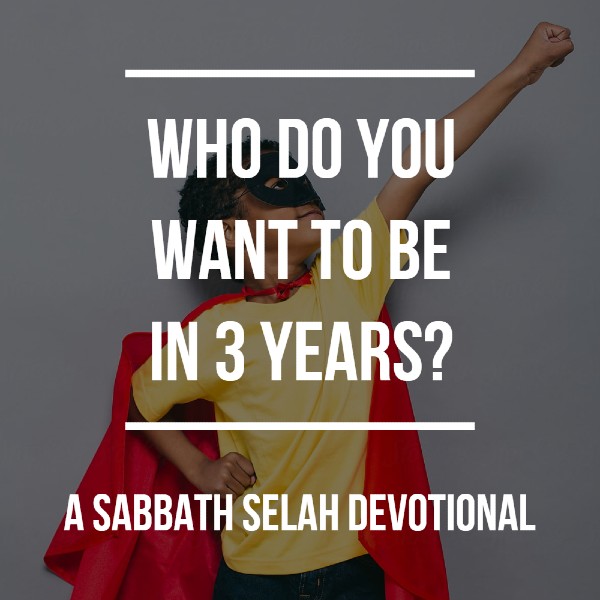 I like thinking about the future. I hate thinking about the past.
Until I got married, I didn't know any other normal human functioned differently.
I've since come to realize MANY people actually love looking at old pictures of themselves.
Honestly, I'd rather scrub toilets.
Many also rarely spend time actively envisioning the future they want.
I find that pretty weird, because that one activity takes up roughly 20% of my spare brain power.
Many actually prefer either rather living in the present (boring), or dwelling on the past (like Uncle Rico from Napoleon Dynamite: video clip here).
As I'm sure you can already tell, I'm always projecting what I want to accomplish in my career 1, 2, 3 years from now. This includes planning countless contingencies.
That's why I was stunned when I realized I rarely ever envision how I want to grow spiritually.
Why is that?
I keep trying to answer that question, but over and over find that . . . I just don't think that deeply about it.
Which is embarrassing to admit.
It's not that I don't care deeply about Jesus, or about my spiritual growth. It's not even that I'm not being self-reflective (I'm overly self-reflective, if anything).
It's just that I don't take a very active roll in planning out life changes that will help me obtain the spiritual growth Christ calls us to in the same way that I do for my career.
The more I thought about it, the more disturbed I got. Because I had to admit I put a lot more thought and emotional effort into growing my career than I ever have into my spiritual life (which is about 10,000 times more important).
To be fair, part of that is by necessity. By working both a full-time job, and running this writing business on the side, I consistently land close to 60 work hours per week.
The average person sleeps roughly 56 hours per week. And, since there's 168 hours per week, that leaves me with about 52 hours per week to devote to everything from praying to spending time with friends and family.
But that's still a terrible excuse to not be purposeful in my spiritual growth.
After all, Scripture says, "work out your own salvation with fear and trembling." Philippians 2:12
So, if you're anything like me in this area, what do we do about it?
Well, as we read Scripture, we find many lists of the traits of godly people.
God often tells us to aspire toward faithfulness. And what is faithfulness?
Faithfulness is being true to a purposeful commitment you've made.
But how can you be faithful to God unless you clearly set before yourself the commitments you're making to him, and often?
Well, we know that Scripture renews our minds. So, why not pick a Scripture passage this week that is emblematic of who you want to be, and write it out by hand to put it in a place where you can read it every single day?
A great habit would be to read the passage you choose directly before your prayer time each morning, and to then ask and trust God to give you the strength to grow into it.
After all, Christ has offered us the strength to be renewed, to be born into a new life of purity. And he is constantly interceding for us, waiting for us to meet him and to rely on him to change us.
If he is faithful (and we know he is!), then by clearly setting before ourselves his Word and aspiring toward it, God will daily grow us in that direction.
So, to get you jump-started, here are a few good Scripture passages to write down and aspire toward. Some are shorter, others are longer. And some are gender-specific. 🙂
Created for good works:
"For it is by grace you have been saved, through faith—and this not from yourselves, it is the gift of God—not by works, so that no one can boast. For we are God's workmanship, created in Christ Jesus to do good works, which God prepared in advance for us to do." – Ephesians 2:8-10
Renewed in the spirit of your mind:
"to put off your old self, which belongs to your former manner of life and is corrupt through deceitful desires, and to be renewed in the spirit of your minds, and to put on the new self, created after the likeness of God in true righteousness and holiness.
Therefore, having put away falsehood, let each one of you speak the truth with his neighbor, for we are members one of another. Be angry and do not sin; do not let the sun go down on your anger, and give no opportunity to the devil. Let the thief no longer steal, but rather let him labor, doing honest work with his own hands, so that he may have something to share with anyone in need. Let no corrupting talk come out of your mouths, but only such as is good for building up, as fits the occasion, that it may give grace to those who hear. And do not grieve the Holy Spirit of God, by whom you were sealed for the day of redemption. Let all bitterness and wrath and anger and clamor and slander be put away from you, along with all malice. Be kind to one another, tenderhearted, forgiving one another, as God in Christ forgave you." – Ephesians 4:22-32
The Proverbs 31 woman (basically, a super-hero):
"An excellent wife who can find?
She is far more precious than jewels.
The heart of her husband trusts in her,
and he will have no lack of gain.
She does him good, and not harm,
all the days of her life.
She seeks wool and flax,
and works with willing hands.
She is like the ships of the merchant;
she brings her food from afar.
She rises while it is yet night
and provides food for her household
and portions for her maidens.
She considers a field and buys it;
with the fruit of her hands she plants a vineyard.
She dresses herself with strength
and makes her arms strong.
She perceives that her merchandise is profitable.
Her lamp does not go out at night.
She puts her hands to the distaff,
and her hands hold the spindle.
She opens her hand to the poor
and reaches out her hands to the needy.
She is not afraid of snow for her household,
for all her household are clothed in scarlet.
She makes bed coverings for herself;
her clothing is fine linen and purple.
Her husband is known in the gates
when he sits among the elders of the land.
She makes linen garments and sells them;
she delivers sashes to the merchant.
Strength and dignity are her clothing,
and she laughs at the time to come.
She opens her mouth with wisdom,
and the teaching of kindness is on her tongue.
She looks well to the ways of her household
and does not eat the bread of idleness.
Her children rise up and call her blessed;
her husband also, and he praises her:
'Many women have done excellently,
but you surpass them all.'
Charm is deceitful, and beauty is vain,
but a woman who fears the Lord is to be praised.
Give her of the fruit of her hands,
and let her works praise her in the gates."
Overseers (Elders):
"The saying is trustworthy: If anyone aspires to the office of overseer, he desires a noble task. Therefore an overseer must be above reproach, the husband of one wife, sober-minded, self-controlled, respectable, hospitable, able to teach, not a drunkard, not violent but gentle, not quarrelsome, not a lover of money. He must manage his own household well, with all dignity keeping his children submissive, for if someone does not know how to manage his own household, how will he care for God's church? He must not be a recent convert, or he may become puffed up with conceit and fall into the condemnation of the devil. Moreover, he must be well thought of by outsiders, so that he may not fall into disgrace, into a snare of the devil." – 1 Timothy 3:1-7
Deacons (Administrative, supportive):
"Deacons likewise must be dignified, not double-tongued, not addicted to much wine, not greedy for dishonest gain. They must hold the mystery of the faith with a clear conscience. And let them also be tested first; then let them serve as deacons if they prove themselves blameless. Their wives likewise must be dignified, not slanderers, but sober-minded, faithful in all things. Let deacons each be the husband of one wife, managing their children and their own households well. For those who serve well as deacons gain a good standing for themselves and also great confidence in the faith that is in Christ Jesus." – 1 Timothy 3:8-13
The full armor of God:
"Finally, be strong in the Lord and in the strength of his might. Put on the whole armor of God, that you may be able to stand against the schemes of the devil. For we do not wrestle against flesh and blood, but against the rulers, against the authorities, against the cosmic powers over this present darkness, against the spiritual forces of evil in the heavenly places. Therefore take up the whole armor of God, that you may be able to withstand in the evil day, and having done all, to stand firm. Stand therefore, having fastened on the belt of truth, and having put on the breastplate of righteousness, and, as shoes for your feet, having put on the readiness given by the gospel of peace. In all circumstances take up the shield of faith, with which you can extinguish all the flaming darts of the evil one; and take the helmet of salvation, and the sword of the Spirit, which is the word of God, praying at all times in the Spirit, with all prayer and supplication. To that end, keep alert with all perseverance, making supplication for all the saints," – Ephesians 6:10-18
Let's pray.
PRAYER
Jesus, give us clarity on who you want us to become. Then, give us the diligence and strength to be faithful to take the steps we know we should take to give you space to change us, and to take center-stage in our hearts and lives. We surrender to you, and gladly serve you in obedience. Amen.
DIG DEEPER
Write out one of the above Scripture passages (or a different one, if you have one in mind), and for the next 7 days, wake up each morning and read that passage, then pray about it.