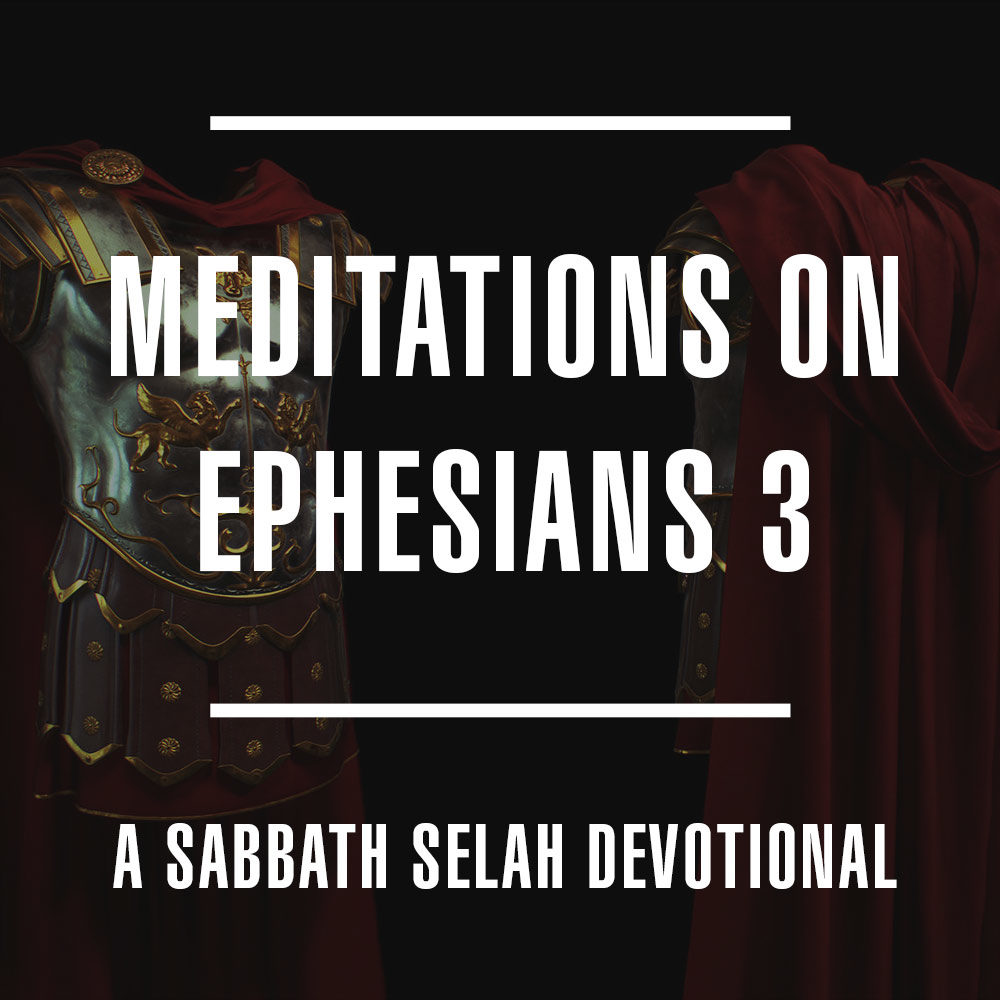 Before we begin: Are you all safe? Let me know in the comments below how I can be praying for you. 
If you don't have your Bible, tap here to read Ch 3 of Ephesians on Bible Gateway.
Alright, let's get going.
Throughout Ephesians, Paul takes the believers in Ephesus back through the beautiful promises of the Gospel – that God has promised to save, change, empower, and reward faithful believers with a life of intimacy with him now and forever.
In each of the first three chapters, he digs through a deeper layer of this to focus on something slightly different. 
In chapter 3, he chooses to focus on the fact that he's been imprisoned precisely because of the good news he preached to the people in Ephesus.
He refers to that good news as "the mystery of Christ." 
What exactly is this "mystery" that he's talking about? 
The text itself explains it, but the structure of the chapter makes it confusing to find.
In short, the mystery is that non-Jews were promised the same rewards as Jews, so long as they believed in Christ, responded to his invitation, and loved him in heart and action. 
This blew these early believers' minds, because the Jews were basically separatists. They wouldn't even do certain things (like eat) with non-Jews.
Yet here comes the proclaimed Jewish Savior saying that he came to adopt Gentiles as his own heirs!
The non-Jews that the Jews looked sideways at suddenly became the ones inheriting the Kingdom of God.
This angered the Jews because they thought they were entitled to it, instead.  
It's interesting to me that Paul refers to this twist as a "mystery." Because the concept of the Gentiles serving the Lord and declaring his goodness is seeded all throughout the Old Testament. 
God promised Abraham (the father of the Jewish nation) that through his line, the entire world would be blessed.
Later in Scripture, Jesus also says that Abraham saw Christ's day and rejoiced (John 8:56). 
When was that? I think I have an inkling.
As Isaac carried wood up the hill, he asked Abraham about what they would sacrifice on the mountain-top.
Abraham answered Isaac by prophesying that God himself would provide a lamb. 
Yet when Abraham was stopped from sacrificing his own son by the angel of the Lord, God didn't provide a lamb. He provided a ram. All of this points to a future fulfillment of the prophecy.
Because many years later, God's own son carried wood up a hill (Golgotha) and was killed on it.
The lamb that God was going to provide was Christ himself.
Yet it wasn't time for the lamb to be slain in Abraham's day. So God provided a ram to extend the promise out to the future. 
I believe this is the moment when Abraham saw the Christ to come, and realized everything that would take place—the entire world being unified in Christ, who would come to life through Isaac. 
Yet Paul says that it was because of preaching this good news to the believers in Ephesus that he was imprisoned (v. 1).
This good news was revealed miraculously to him just as it was to Abraham (v. 3).
Instead of recounting all the details of Paul's past that surely the Ephesians had heard already, he appeals instead to the contents of the letter itself as proof of his legitimacy as an apostle (v. 4). 
But after saying this, he goes further by claiming that the details of this true good news was revealed to him in more detail than to any other previous generation, Abraham included (v. 5).
How could this be? 
I believe what he's talking about is that Abraham saw the future promises, yet didn't get to experience their fulfillment.
Here Paul has been given the same head knowledge, yet his heart and body and spirit have experienced the reality of Christ's power transforming and redeeming the world in a way Abraham never did.
Knowledge in the Scriptures is frequently spoken of as more than just intellectual data.
With our western-mindset, we easily forget this. But when God speaks of us knowing him, he says, "Taste and see that the Lord is good." 
The tasting, the experiencing, comes alongside the intellectual reveal, and the experience is what fills up the intellectual reveal with significance. 
If we know the truths of the Gospel but don't experience them, we don't really know them. That's why Jesus says in Matthew 7:21-23, "Not everyone who says to me, 'Lord, Lord,' will enter the kingdom of heaven, but the one who does the will of my Father who is in heaven. On that day many will say to me, 'Lord, Lord, did we not prophesy in your name, and cast out demons in your name, and do many mighty works in your name?' And then will I declare to them, 'I never knew you; depart from me, you workers of lawlessness.'"
Purely intellectual knowledge is knowledge half-finished.
So, we can never say we know God unless we are experiencing his goodness. 
Paul has experienced God's goodness. Precisely because he was the "least of all the saints," God's redemption of his life is a deep experience of God's full goodness (v. 8). 
Remember, Paul was a murderer. He was a Christ-hater.
And because he experienced God's miraculous love and mercy, he was entrusted to share this good news with others (v. 7), and to bring light to everyone (v. 8), so that God could be made known through the church to the entire world (v. 9).
All this was according to the eternal purpose of Christ (v. 11), through whom we have boldness and confident access through faith in his power and promises (v. 12).
That's why Paul says they shouldn't lose heart over his suffering, because it was God's purpose that he should suffer, and because his suffering was accomplishing the glory of God (v. 13). 
Yes, that means that God made Paul suffer on purpose. Goes against a lot of "theology" these days, doesn't it? Blame the Bible.
Because of these truths, Paul bows his knees to the Father God (v. 14). He's overwhelmed that every family, no matter the patriarchal history, belongs to God (v. 15). That God's mercy and love can even be revealed through both his comfort, and our collective suffering.
We are all saved according to his gracious will toward us (v. 16). Because of this, Paul trusts that he will grant the Ephesians to be strengthened by his Spirit in their inward person (v. 17).
This strength is given as we respond in obedience to his gracious upward call to live like him. Because as our behavior and hearts are rooted in love, his Spirit gives us the strength to comprehend the fullness of his love (v. 17-18). 
The truth is that God's love surpasses all knowledge. We can never know or experience all of it, because it's endless, enormous, infinite (v. 19). And thank God, because what else could fill up eternity with joy but someone infinitely good?
Heaven is heaven because God is there. What glory!
Paul finally ends the section by reminding the Ephesians that God can do more than what we could ask or imagine (v. 20).
Then, finally, he gives a word of praise, that glory would be given to God forever (v. 21). 
Amen! Let's pray.
PRAYER
Jesus, thank you for your incredible grace toward us. It is such an amazing blessing that you have chosen us to be your children, and to inherit the amazing blessings Christ earned through his life, death, and conquering resurrection. We don't deserve your love, but you've given it to us. We don't deserve you being faithful to fulfill the promises you've given us when we've been so unfaithful, so unloving. But you have gone above and beyond to more than earn our trust, love, and dedication! We give you our lives anew right now. Be glorified in our lives! Purify and strengthen us to live out your Gospel promises.
DIG DEEPER
Meditate for 15 minutes on how faithful God has been to his people throughout history. He showed his love and mercy to Cain, to Noah, to Abraham, to Moses, to the people of Israel, to King David when he sinned, to Nineveh in the book of Jonah, to the apostles, to the early church, and now to you and me! Write out how God has showed his great love and mercy to you, and save it in a special place, for when you need to remind yourself of it later.
PS: Here are the links to the other devotionals in this series:
Ephesians 1 https://brennanmcpherson.com/blog/meditations-on-ephesians-1-a-sabbath-selah-devotional/
Ephesians 2 https://brennanmcpherson.com/blog/meditations-on-ephesians-2/