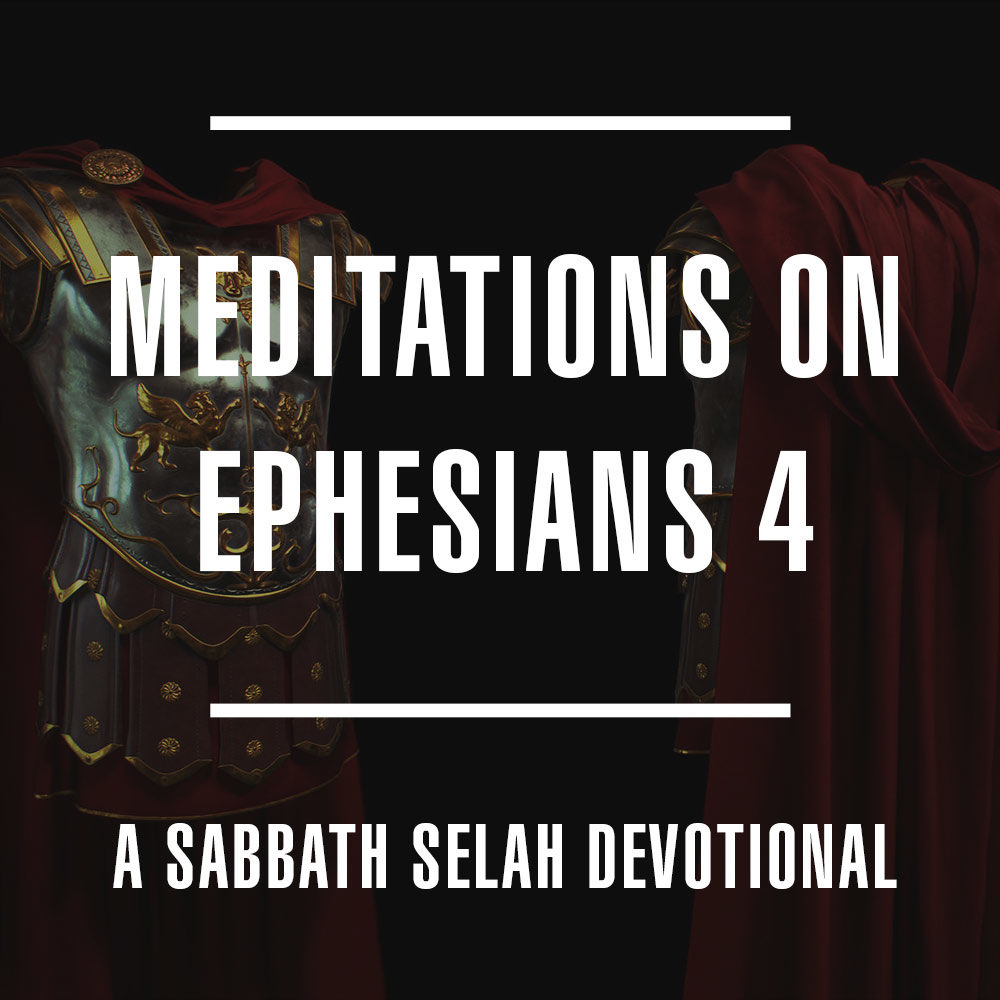 Who's ready for some meditations on Ephesians 4? 🙂 I hope you've all had a good week.
In the first three chapters of Ephesians, Paul reminded the Ephesians of God's incredible gift.
He also reminded them of his labor to share God's incredible gift with them, and his imprisonment for their sake.
All of that was built up for these final three chapters of Ephesians, where he lays out how they should respond to God's incredible offer.
As a prisoner for God, Paul asks them to walk in a manner worthy of God's calling on their lives (v. 1). This is a life defined by humility, gentleness, and patience. The sort of life lived out by us bearing with one another in love (v. 2).
He urges us to remain eager to maintain close bonds of peace, because there is only one church.
Every Christian belongs to one another, as permanent family. So, we strive to reconcile with each other in humility and gentleness (v. 3).
There is only one Christ, and one Spirit inside all of us. We have the same hope, attached inseparably to the one call to live worthy of Christ and to bear good fruit through his Spirit (v. 4).
We share the same trust in Jesus (faith). The same Lord who commands us all to live the same kind of life.
We celebrate one baptism (a symbol of the death of the old life and the resurrection we have into the new life God gives us).
There is only one God, one Father, who is in every Christian and expressed in our actions.
And that one Father is authority over us all (v. 5-6).
Because of our history with evil, and the grace and forgiveness given to each of us, who are we to look down on anyone? To not offer grace or forgiveness to a fellow brother or sister (v. 7)?
This convicts me often, because my natural reaction when people wrong me is to be angry and to want to force them to make it right immediately.
But what I've noticed in parenting is that when I blow up at my daughter for being naughty, it may seem to change her attitude in the moment, but it never leads to good in the end. A day or so later, I'll hear her yelling just like me.
James 1:20 says, "The anger of man does not produce the righteousness of God." Despite all my protestations, this has been proven true in my life.
So, because I've wronged others – and God – countless times, who am I to lash out when someone wrongs me?
Christ is the only one who can fix this brokenness.
Thankfully, he's made a new man inside of us who is perfectly suited for good works!
And when we live by his Spirit instead of by our flesh, we starve the evil inside us, and let Christ shine through us.
That is when we start living worthy of the call.
All we need to do is surrender every day to his powerful work, and trust that he (not us) is the one who strengthens us to be who he asks us to be.
Because it says, "When he ascended on high he led a host of captives," (that's the people who trusted him beforehand) "and he gave gifts to men." (That's the Holy Spirit inside us, the new man that he is strengthening daily)
Paul then reminds us that by saying Christ ascended, that means he descended to earth in ultimate humility, to pull on human flesh, to become fully human and experience the difficulty of everyday life.
The sorrows, the joys, the pain, the love (v. 9). The difficulty of being good in a world filled with evil. This is the man who tells us to be holy.
Don't you think he knows what he has the power to do in our lives?
Because this same God-Man who became like us also ascended ABOVE all the heavens, so that he might fill all things (v. 10).
He gave us apostles, prophets, evangelists, shepherds and teachers, to equip us for the work of telling everyone in the world about Christ's glorious victory and offer of forgiveness, freedom, safety, love, and eternal life (v. 11-12).
And we will all be laboring until we attain to the unity of full trust, dependence, and obedience to Christ together (v. 13).
His goal in this is for us to grow from childishness to mature adulthood (v. 14). So that false philosophy and fake "doctrine," and human cleverness and deceitful schemes won't throw us sideways.
Instead of falling for that garbage, Christ's goal is for us to share the truth about him in love, and to grow up in every way into his Spirit (v. 15).
Once again, this goes back to the beginning of Chapter 4, where he said he wants us to live a life defined by humility, gentleness, and patience, bearing with one another in love, eager to serve and maintain close bonds of peace.
This is not a false peace, but a true peace that comes through humility, because true humility kills anger, bitterness, and unforgiveness.
In doing this, humility empowers us to be honest and open without harming each other with our opinions.
In this way, as a unified family, we live and grow, built up in real (not feigned) love for Christ and each other (v. 16).
To accomplish this goal, we're told to walk in him, rather than the futility of our own thoughts like the rest of the world (v. 17).
The rest of the world is blind, alienated from the life of God due to the ignorance caused by their hardened hearts (v. 18).
When people's hearts are hardened to the cost of evil, they give their lives up as sacrifices to sensuality, worshipping pleasure, greedy to practice impurity, fantasizing about every evil that fits their fancy (v. 19).
But that's not how we learned Christ (v. 20)!
These behaviors are totally opposed to the life that God set inside us. If we know Christ, if we are in him, these truths will be as clear as the light of the sunrise (v. 21).
Because if we are in Christ, and living his life, we have been taught to put off our old self, that hunger for impurity, which is corrupt and leads to death (v. 22).
Then, we will be renewed in the spirit of our mind (v. 23).
Do you remember what this felt like in the beginning?
When you realized God's glorious sacrifice for you, his offer of forgiveness, and his promise of a new, real life, how it blasted away your desire for anything less than Christ himself. In that moment, you just wanted him to fill every ounce of your mind, body, and soul forever.
That was a moment when God renewed the spirit of your mind. And we can walk in that every day, so long as we rest in him fully, and direct our focus on him, and live totally dependent on him.
Because he gave us a "new us," crafted in the likeness of God – holy, desiring good, overflowing with love, grace, kindness, gentleness, and joy (v. 24).
Paul says this is why we speak truthfully to our neighbor. This is why we're earnest, because we belong to each other, as family (v. 25). There's no room for fakery.
This is why the only place we can cultivate true humility is at the foot of the cross. Because we need to realize our own evil first, and be humbled by God's gracious mercy, before going to our brother or sister to make peace with them.
He says "be angry and do not sin; do not let the sun go down on your anger." (v. 26) Give no opportunity to Satan (v. 27). Don't let him get his foot in your life.
Don't steal. Instead, work honestly and live modestly so that you can share with those in need (v. 28).
Refuse to speak corruptly, or to joke crudely, or to speak evil of other people. Instead, build each other up, as appropriate, being gracious in every way (v. 29).
Don't grieve the Holy Spirit, who keeps us the way that we are (v. 30). He's the constant source of all our goodness. We aren't!
So, put away bitterness, anger, clamor, slander, and malice (v. 31). We have no right to act that way to anyone because we're all just a bunch of helpless sinners!
But Christ has made us so much more – not for us to hold it over anyone's head, but to build them up to be what God has planned for them.
So, let's be kind and tenderhearted, and forgive each other as God forgave us (v. 32).
Let's pray.
PRAYER
Jesus, thank you for your incredible love, grace, power, and life. YOU have given us everything that we have. We worship you for your goodness! Give us the strength to obey you, and give us the clarity of mind to realize our true place in the world, that we are completely dependent on you every moment of every day, and that our calling is to serve each other in love. Purify and build us up for the good work you have planned! So that more people than we ever imagined can come to know and love you. Amen!
DIG DEEPER
Take ten minutes and write out some people that you have treated unkindly, or been irritated with. Then write out an apology to God, for lacking humility, forgiveness, grace, mercy, and love. Then write out a prayer for the wellbeing of the person who harmed you, and ask God to give you the opportunity (and strength) to make it right and restore that relationship in a way that honors him. This may sound pathetic, but I needed to apologize to my daughter today. I blew up at her yesterday, and it wasn't right. This quarantine time is difficult for a lot of us. But thankfully, she's a remarkably tender-hearted and gracious person, and she forgave me. Goodness, talk about humbling… I needed to ask a three year old to forgive me. Aye-aye-aye… Blessings. I hope this helped you as much as it did me.
If you want to read the other devotionals in this series, here they are:
First post, Meditations on Ephesians 1 – A Sabbath Selah Devotional
Second post, Meditations on Ephesians 2 – A Sabbath Selah Devotional
Third post, Meditations on Ephesians 3 – A Sabbath Selah Devotional