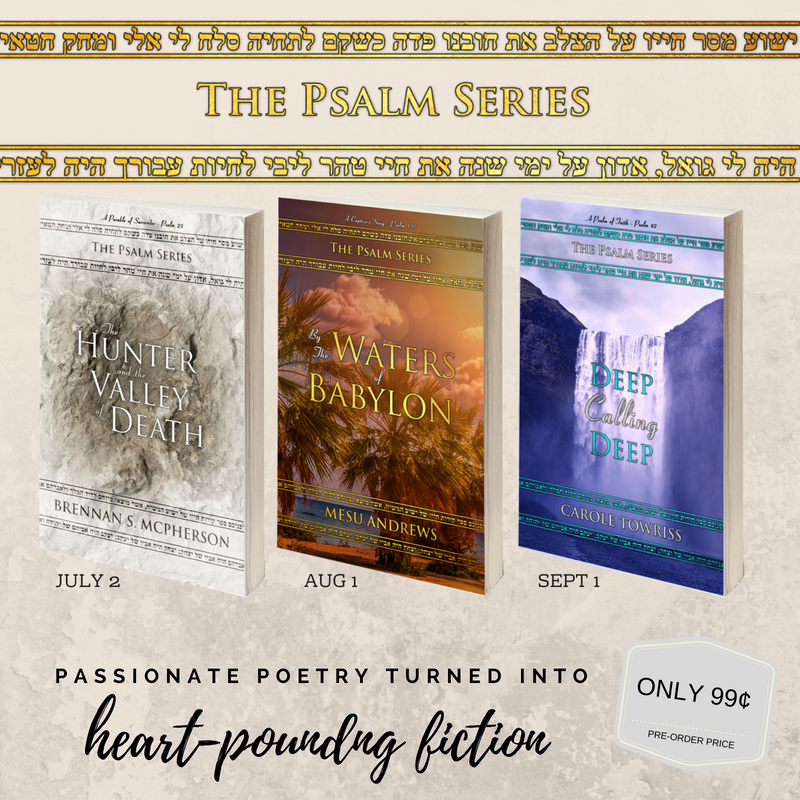 I am SO excited to announce that, along with two other talented authors of biblical fiction, I'm launching a new series of short biblical fiction novels based on the psalms, called The Psalm Series. To see more about the books, and to pre-order them all, go to psalmseries.com.
Each author picked one psalm and wrote their story around that psalm. Each book also comes with an in-depth Bible study of the psalm in question, along with tips on how to engage deeper with Scripture. In July, we will also be offering a free devotional based on the psalms, to help you deepen your Scripture engagement and prayer life.
The book I'm contributing to the series is a fantasy parable based on Psalm 23 (perhaps the most recognizable of all the psalms). The book takes the imagery of the psalm and turns it into an actual story. Here's the Psalm as it reads in the English Standard Version:
The

Lord

Is My Shepherd
A Psalm of David.
23 The Lord is my shepherd; I shall not want.
2     He makes me lie down in green pastures.
He leads me beside still waters.[a]
3     He restores my soul.
He leads me in paths of righteousness[b]
    for his name's sake.
4 Even though I walk through the valley of the shadow of death,[c]
    I will fear no evil,
for you are with me;
    your rod and your staff,
    they comfort me.
5 You prepare a table before me
    in the presence of my enemies;
you anoint my head with oil;
    my cup overflows.
6 Surely[d] goodness and mercy[e] shall follow me
    all the days of my life,
and I shall dwell[f] in the house of the Lord
    forever.[g]
AND HERE IS THE FIRST CHAPTER from the book (releasing July–up for pre-order now), titled The Hunter and the Valley of Death: A Parable of Surrender – Psalm 23.
PRE-ORDER HERE (https://psalmseries.com/)
C H A P T E R 1
"I'll be yours forever.
Just tell me you'll always be with me. Continue Reading