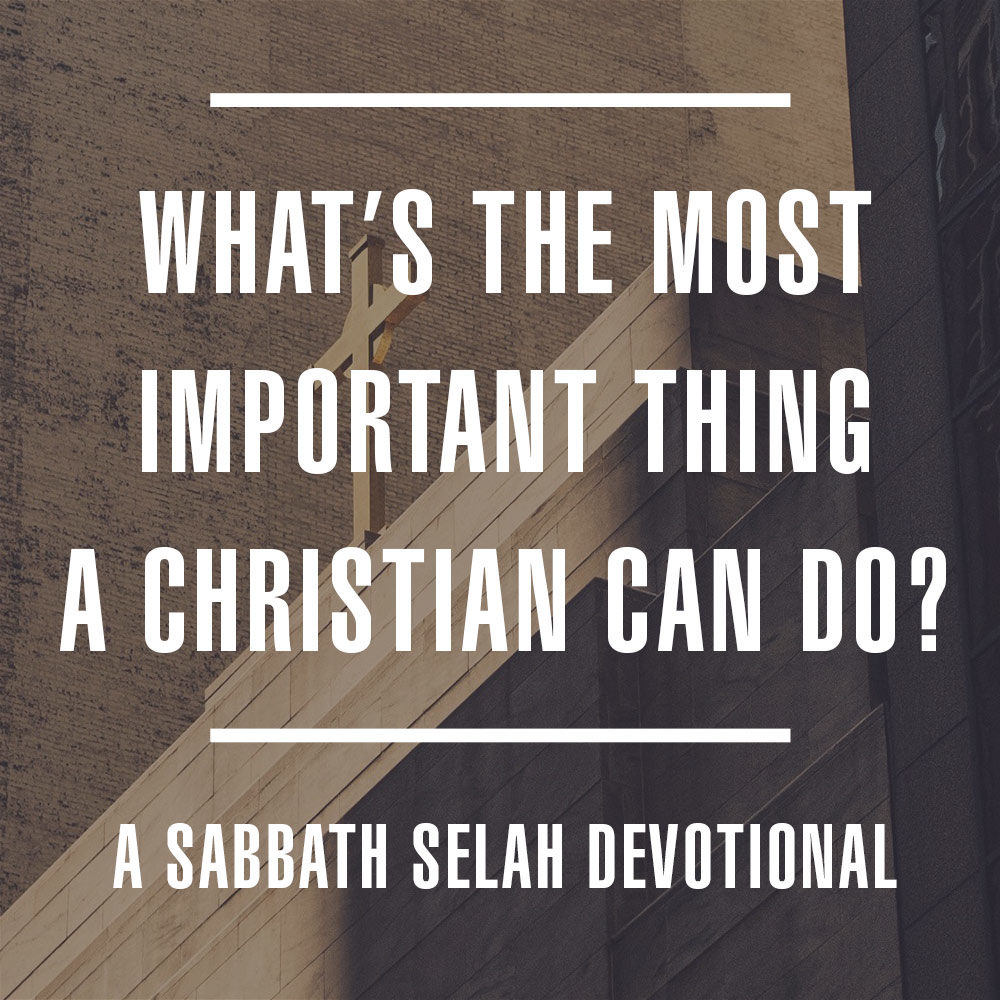 What is the most important thing a Christian can do? There's lots of Christian self-help books that tell us how to enjoy life more, do better, know more about theology, etc.
But what's become infinitely clear in my years of trying to be a Christian is how easily my heart floats away from Christ. It's as if I'm a ship charting the waves under the direction of my Navigator. Then, every night, I return to shore and tie myself to the dock.
In the morning, I wake disoriented and moored in selfish desires for food, fun, or additional rest. I need some way to daily wake myself up, to remove the bondage of my fleshly nature and get back out to sailing with my Lord.
What God says in his Word is that prayer, worship, and the Scriptures are the tools God has given us to jump-start our hearts and minds.
Maybe my emotions are slower to respond, and my fleshly nature more deeply rooted than others, but I've found that the bare minimum I need to remain rooted in Christ—to walk through the day with a sense of his presence and power—is a full hour with him every morning.
Two hours is better, especially with additional time throughout the day and in the evenings. This is when I find my joy in him begins to explode, and I feel truly free.
But this self-discovery came about through years of walking with Christ.
After about a year of spending my first hour with Christ, I enjoyed my time with him so much that I wanted more. I started to spend my first two hours with him, and then I wanted more, so I spent some of my additional free time in dedicated prayer and worship.
You have to understand: I'm a lazy millennial. I have a short attention span, and grew up on video games and fast-food.
I am not the "type of person" to do this. And yet I found that time with my Jesus became my most treasured and enjoyable time throughout the day.
For an entire year, as I continued pouring myself into Christ, I felt (for the first time in my life) the peace that passes all understanding. I felt perpetual, pervasive Joy. I walked around with a genuine smile plastered on my face.
I was so happy it was ridiculous. This is not a joke. I'm not making this up. This really happened.
Then I got really busy, and went through some tough times with family, and I let that time slip, and my joy slipped with it.
I believe this is because Christ made us to desire and enjoy him. He satisfies me and gives me more joy than anything else possibly can.
The troubling fact is that it's so ridiculously easy to forget this.
Our relationship with Christ is more intimate than our relationship with our spouses can ever be.
His life is literally pouring inside of us. Our spouse's life can't do that. We become one with Jesus spiritually and emotionally in a way we never can with any other person.
If you're walking around feeling uninspired, spiritually dry, or distant from God, consider the amount of time you spend in Him every day. Then measure that against the time you spend willfully tending other desires in your heart.
Be honest: what's that ratio actually work out to be?
Unless you have a clinical issue that's profound and pervasive (such as a high level of physically-induced depression), I can virtually guarantee you the ratio of God-time to other-time is alarmingly low.
Let's not blame God for our own infidelity.
Let's make certain that if our emotions are in a bad place, we are at least getting on our knees, throwing away our distractions (tv shows, video games, books, or even this blog), and pouring ourselves into the heart of Christ until we feel the fire of his Spirit consume our bones.
Stay there with him until you feel it. Because you WILL feel it. Even in fifteen minutes your entire mindset will probably be turned on its head.
When's the last time you spent 15 minutes in focused, thanksgiving-filled prayer?
I don't say these things to encourage a sense of slavish religiosity. But consider this…
No two people will feel they have a warm and intimate relationship together without consistent and frequent quality time together. Positive time together grows a relationship.
God made us primarily to love him and be with him. The most important element of living the Christian life is spending time enjoying Christ.
So, are you spending time enjoying being with him?
If you want to grow spiritually, throw yourself into the heart of Christ. Abide in him and let him renew your mind. Then, and only then, will you walk by the power of his Spirit, in faith in him, who is your fortress, your sustainer, your life.
You will never regret the time you pour into Christ.
PRAYER
Lord, THANK YOU for always being there to listen to us. For always being willing to spend time with us, for always answering our call, and for being our comfort, our fortress, our support, our joy, our peace, our everything. Help us to remember the most important thing a Christian can do is be with you. We dedicate our lives to you anew right now. Take our time right now as an offering. And draw us deeper into you. Sustain us by your Spirit, amen!
DIG DEEPER
Take the next fifteen minutes and spend it in concentrated, thanksgiving-filled prayer. Maybe take it in five minute chunks, and set a timer. For the first chunk, thank him for who he is, and what he offers to us. You'll probably repeat yourself a lot. That's totally fine. Then spend the next 5 minutes worshipping him, either in prayer or by singing. Then spend the last 5 minutes thanking him for everything he has given you in your life. And consider dedicating one day a week as a Sabbath.